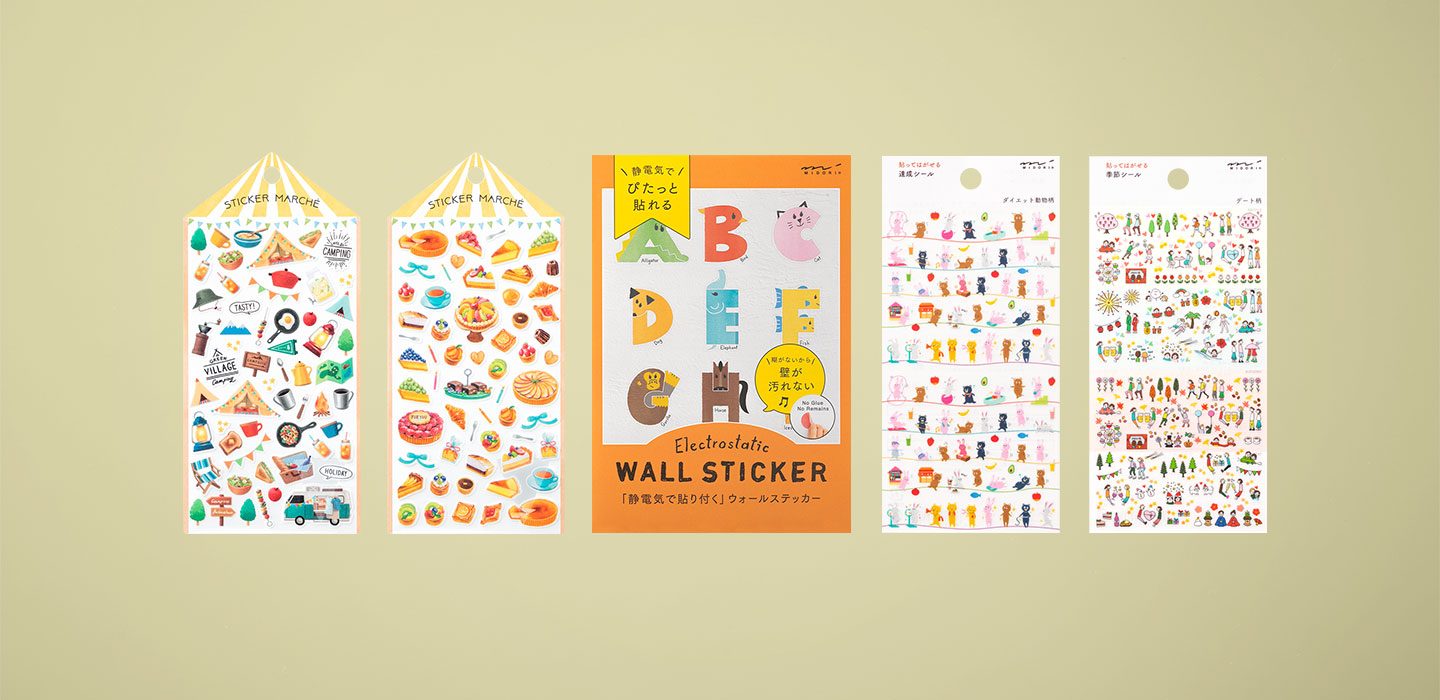 Stickers
Midori sticker series add a touch of fun to any day-to-day scene.
We offer a variety of stickers including Sticker for Diary/Planner, STICKER MARCHÉ, and Electrostatic Wall Sticker.
Sticker for Diary/Planner
Let's decorate your schedule planner fun and easy to see using these colorful stickers!
Mark up your daily events in an easy-to-understand with colorful and various motifs stickers fit your schedule!
Decorate your planner with fun, colorful stickers that can be used to enhance the date, or for ruled lines!
Sticker for Diary/Planner
Package: H180×W89×D1mm / Sticker: PET  / 1 sheet
STICKER MARCHÉ
STICKER MARCHÉ is a sticker series you can choose from various motifs as if you were walking around at marchē in some country.
Made of masking tape material, these stickers can easily be removed and replaced.
Find your favorite pattern from a variety of food, sundries, flowers, and wreath.
STICKER MARCHÉ
Package: H183xW88xD1mm / Sticker: Washi  (Traditional japanese paper) / 1 sheet
Electrostatic Wall Sticker
Wall sticker sticking with static electricity
As it sticks by static electricity, you can easily enjoy home decor without damaging the wall.
It is also recommended for everyday use, such as home party, as well as room decorations with children, friends.
Electrostatic Wall Stickers
Package size:  H230 x W136 x D2mm / Sticker:  PP / 4 sheets
*Place where you can put:
Window glass and mirrors, wallpaper with less unevenness, wooden furniture, doors, etc.
*Place where we cannot put:
Sand and dirt walls, uneven surface, fabric, shaggy material, etc.