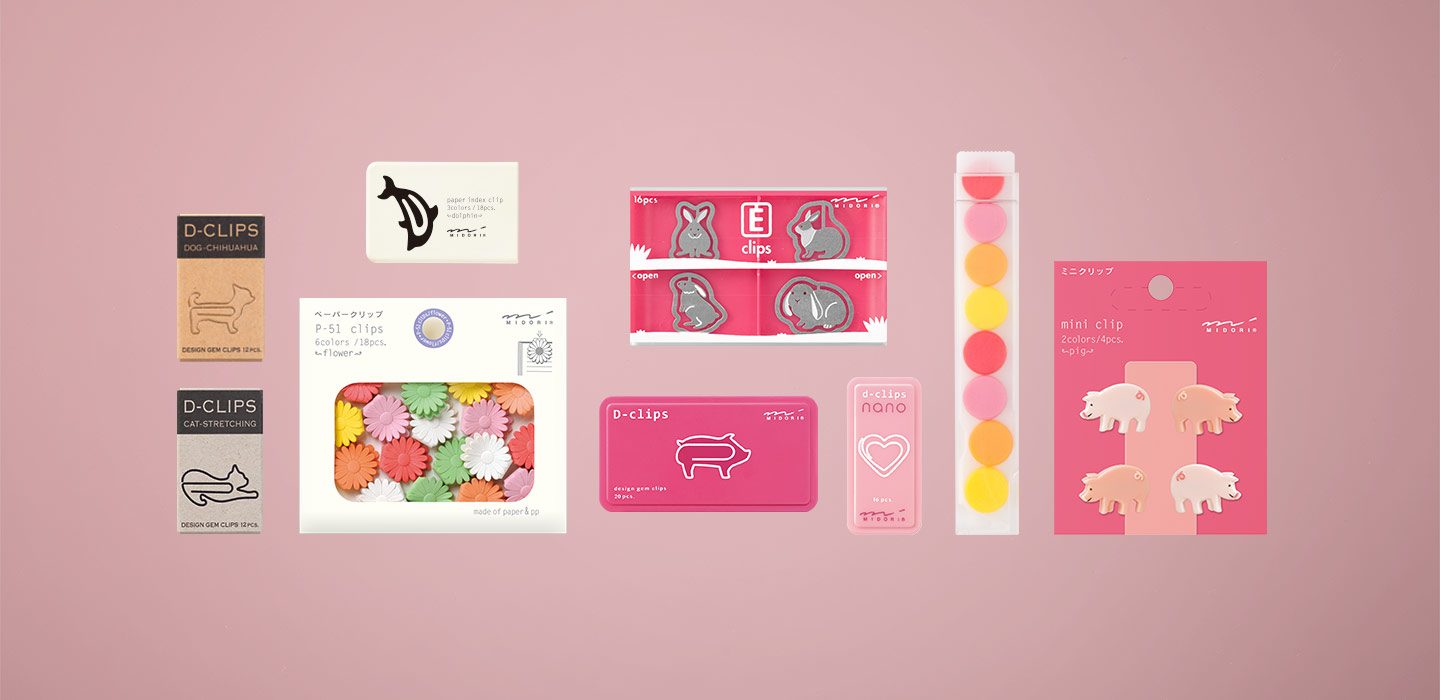 Clips
Midori paper clips add a touch of fun to any day-to-day scene
We offer a variety of clips in many shapes, including Etching Clips, different kinds of D-Clips, P-51 Clips and Paper Index Clips.
d-clips nano
Minimal D-Clips perfect for carrying around
Not only the cases but also the clips themselves are smaller than the regular sized D-Clips. But these minimal clips are functional enough to hold 10 copy sheets.
Animal shaped d-clips nano next to D-clips look like child and parent.  This d-clips nano adds a touch of fun to your everyday tasks at school or office.
d-clips nano
Case: H48 x W23 x D11mm [ABS] / Clips: Stainless / 16pcs
Etching clips
Attractive stainless steel design clip featuring delicately etched designs.
This Etching clips are produced with etching process on stainless steel.  Hold around 10 sheets of copier paper firmly in place.
Handy card-sized cases each contain an assortment of four designs.  The pattern on the case is designed to match the theme of the clip.
Etching clips
Case: H55 x W92 x D7mm [ABS+Polystyrene] / Clips: Stainless / 16pcs (4designs x 4pcs)
D-clips
D-clips that are both functional and have fun designs
These paper clips were first designed in 2008 to be both reusable and for use as a communication aid in office and school environments. With motifs such as animals, vehicles, and fruit, and slide-open storage cases in a variety of bright colors, these paper clips are designed for use by both men and women.
Their toy-like cases contain 20 paper clips. Each pattern is stylish, without being overly cute, making them perfect as presents.
D-clips
Case: H40 x W75 x D13mm [ABS] / Clips: Steel / 20pcs
D-CLIPS MINI BOX
Cute silhouettes and a high-quality feel
Based on the fun and functional D-Clips , these paper clips are aimed at an adult audience and feature stylish designs. Featuring popular animal motifs, these paper clips are available in chic white and gold colors. The naturally-textured paper boxes contain 12 clips.
Similar in size to a match box, they can be easily stored in a pencil case. These paper clips can be used on documents or envelopes to add a touch of fun to any scene in your day.
D-CLIPS MINI BOX
Case: H51 x W31 x D15mm [Paper] / Clips: Steel + PET / 12pcs
P-51 clips
Pastel-colored clips made from paper
These sliding-type paper clips feature a variety of colors and cute shapes. They're made from a combination of 51% paper and MAPKA synthetic resin (produced in a way that minimizes CO2 emissions). Their unique texture, completely unlike plastic, creates a matte pastel sweet-like feel. These paper clips are able to bind together up to 10 pages at a time, simply by sliding them on.
Each motif features 6 colors, with a total of 18 clips in each box. They can be used to add a touch of fun to documents and gift cards at home, school, or in the office.
P-51 clips
Package: H82 x W98 x D10mm / Clips: H10.5-19 x W18-20 x D5-5.5mm [MAPCA] / 18pcs (6colors x 3pcs)
paper index clip
This index clips are made entirely from paper.
The clips themselves feature layered paper fibers, produced in a way that's kind to the environment. Their wear and shock-resistant design also makes them reusable.
Use them to bind together stylish documents, or to add an extra touch to a present!
These paper clips are made from a material that is classified as a type of paper. They're strong yet have a friendly feel to them.
paper index clip
Package: H116 x W85 x D17mm / Case: H37 x W55 x D16mm [MAPCA] / Clips: H25-35 x W21-28 x D1mm [Fiber Paper] / 18pcs (6colors x 3pcs)
Other Clips
mini clip

Featuring both well-known and more unusual animals, these clips are available in 10 varieties. These clips feature the same design on both sides, and so can be used on either the left or right.
As well as for binding together documents, they can also be added to gifts, or added to the side of a piece of card paper to act as a stand!

mini clip
Package: H90 x W70 x D11mm / Clips: H16-25 x W17-24 x D11mm [ABS] / 4pcs

BLOCK CLIP

Fun block-shaped clips that can be connected together.
As well as being functional, these fun-shaped paper clips can be formed into a variety of shapes like the robot memo stand pictured here. They'll definitely make desk work more fun!

BLOCK CLIP
Package: H148 x W84 x D25mm / Clips: S size H12 x W12 x D7mm, M size H24 x W12 x D7mm [PP] / 24pcs (4colors x 3pcs x 2sizes)

Drop clips

These round paper clips feature a variety of eye-catching colors to help sort your documents. They're able to bind together up to 10 pages of photocopy paper at a time.

Drop clips with Case
Package: H175 x W76.5 x D15mm / Case: H130 x W23 x D13.5mm [Polypropylene] / Clips: H15 x W15 x D5mm [Polypropylene] / 8pcs
Drop clips
Package: H175 x W76 x D10.5mm / Clips: H15 x W15 x D5mm [Polypropylene] / 32pcs

PIN-CLIP

These hook-style clips are useful for tidying up power cords, and binding loose leaf paper or pre-punched memo paper.

PIN-CLIP
Package: H125 x W35 x D22mm / Clips: H57-65 x W13.5-17.5 x D13.5-16.5mm [Silicon, Iron, Brass] / 2pcs