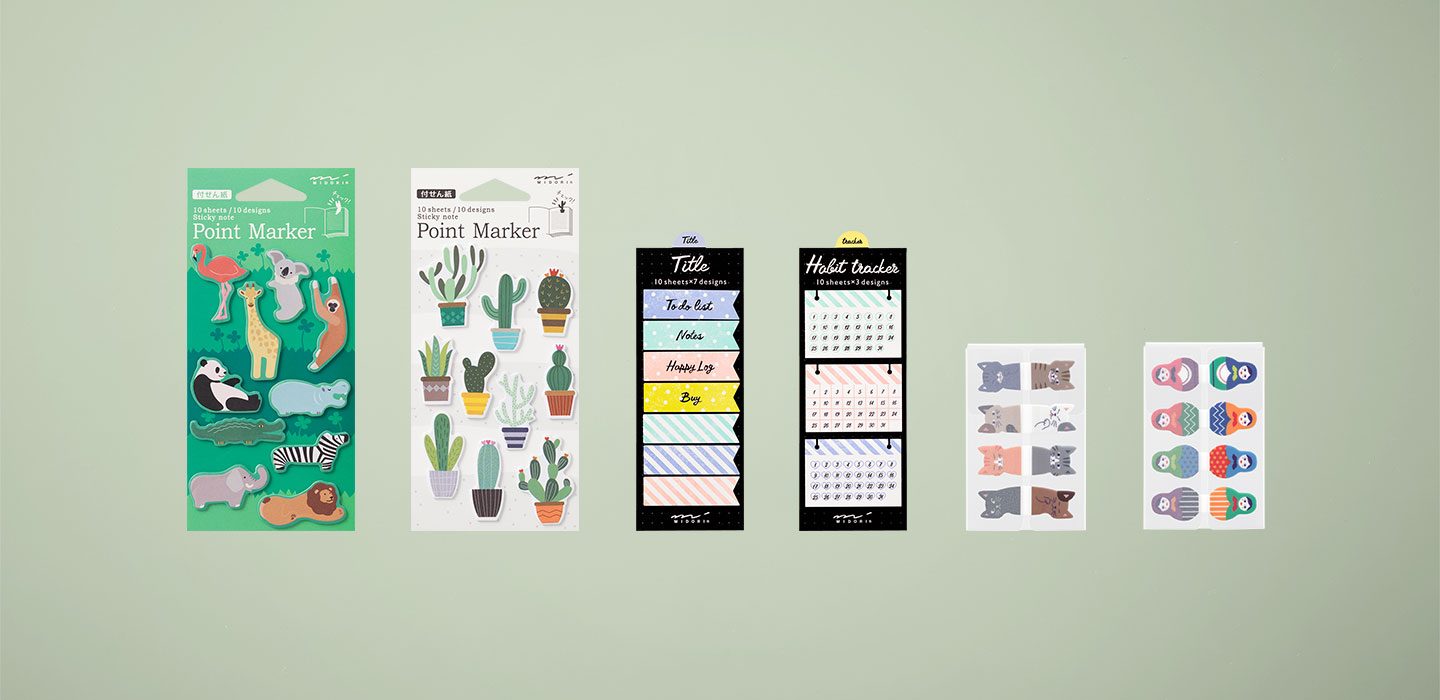 Sticky Notes
MIDORI sticky notes can make your life more smooth and comfortable.
Our sticky notes are not only well-designed but also considered to be more useful.
Point Marker Sticky Notes
Sticky Note Useful as Point Maker and Index. As many as 100 Stickers Included.
There are 10 designs for a motif. These stickers are perfectly sized to fit into the margins of a diary and a notebook. They're easy to remove and re-stick.
If you stick it to peek out from the pages, you can use it as a cute index.
Point Marker Sticky Notes 
Package: H162xW80xD2mm / Sticky Note: Paper /100 sheets (10 designs x 10 sheets)
Film Index Sticky Notes
A Pop-Up Type Film Sticky Note Easy to Take Out
Let's stick them to your diary and notebook. This cute film sticky notes popping up from the pages will ease you mind. Ballpoint pens and permanent markers are best for writing on the sticky notes.
The pop-up type case makes it easy to take them out.
Film Index Sticky Notes
Package: H118xW58xD2mm / Case: PET with clip function / Sticky Memo: PET /48 sheets (6 designs x 8 sheets)
Sticky Notes Journal 
Sticky Note Perfect for the Beginners of Ballet Journal
If you want to start ballet journaling or organize your notebook, this sticky note will be useful for you. This well designed sticky notes make your notebook look good as if it is a hand writing format. You can remove and re-stick it easily.
This is good fit for someone who wants to enjoy writing and decorating your own notebook.
Sticky Notes Journal 
Package: H156xW50xD1.5~4mm / Sticky Notes: Paper / 30 sheets (3 designs x 10)